As technology has evolved and application needs have grown, a variety of touch technologies have been created to suit a variety of industries and levels of application. Today, commercial touch screen technologies include: resistive touch screen, capacitive touch screen, infrared touch screen and surface acoustic wave (SAW) touch screen, which have been widely used in mobile phones, tablet PCs, retail, public information, multimedia information systems, medical instruments, industrial automation, entertainment and catering, ticketing systems, education systems and many other areas. This touch screen PC is an industrial Panel PC or an industrial tablet PC. There are 12", 15", 17", 19",15.6" and 21.5" and capacitive panel PC, and resistive panel PC for your option. This industrial touch screen PC can meet a variety of needs in demanding environments.
Windows 11 Computer Waterproof IP65 Front LCD Display Monitor Fanless Embedded Wall Mount Tablet All in One Touch Screen Industrial Panel PC
Product Details:
Name: 12/15/17/19"Resistive Touch Screen
15.6/21.5" Capacitive Touch Screen
Dimension: 12" Resistive: 318.8x245.0x65.5 mm
15" Resistive: 376.13x285.34x68.90 mm
17" Resistive: 400.66x329.76x68.10 mm
19" Resistive: 437.27x361.27x68.8 mm
15.6" Capacitive: 402.76x252.19x65.3 mm
21.5" Capacitive: 533.60x327.12x70.90 mm
Processor: lntel Celeron J4125/J6412 CPU, lntel Core i5 8260U, Other 8/10/11 Gen-U i5/i7 CPU
Memory(RAM): J4125/J6412: DDR4 SODIMM x1 (Max up to 8GB )
Core i5/i7: DDR4 SODIMM x2 (Max up to 2*16GB )
4GB/8GB/16GB DDR3L 2400Mhz SO-DIMM
Hard Disk(SSD): 1 x M.2 2242/2260/2280 SATA, 1 x SATA(2.5'' SATA ), 1 x M.2 2280 NVME
128GB 256GB 512GB 1TB M.2 SSD for option.
I/O Port: 4 x USB2.0 , 2 x USB3.0 (J4125/J6412)
2 x USB2.0 , 4 x USB3.0 (8th/10th/11th Gen intel Core i5/i7)
2 x DB-9 COM1&COM2, RS-232/422/485 1 x Audio Line-out
2 x 8Ω 1W amplifier outputs (optional)
1 x AT/ATX DIP switch 1 x HDMI
Extendable: 4xRS232,10xGPIO,1xRemote Switch
Ethernet port: 2x 2.5 GbE RJ45 Intel i225V (4x 2.5GbE RJ45 Intel i225V optional)
WIFI: with dual antenna,300M,802.11.b/g/n
Watch Dog Timer: 1~65535s programmable setting
Extension: M.2 3042/3052 3G/4G/5G Module(on board with SIM slot), M.2 2230 WiFi&BT
Resolution: Resistive: 1024x768 (800x600 optional) or 1280x1024, Capacitive: 1920x1080
Operating Temperature: -20°C ~ 60 °C
Storage Temperature: -30°C ~ 70 °C
Relative Humidity: 10~90% @30°C, without condensation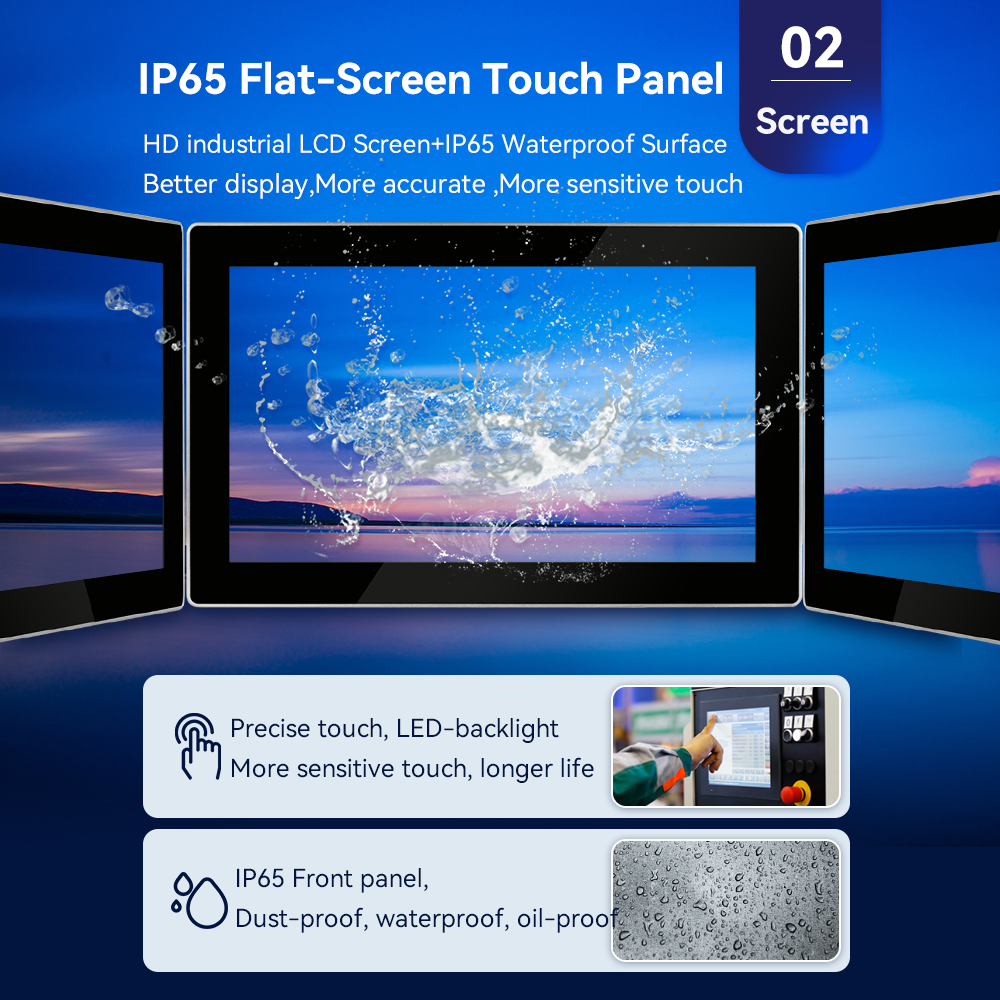 This Touch Screen PC has IP65 flat screen touch panel. It is waterproof, shockproof, dust-proof, oil proof, and anti-interference.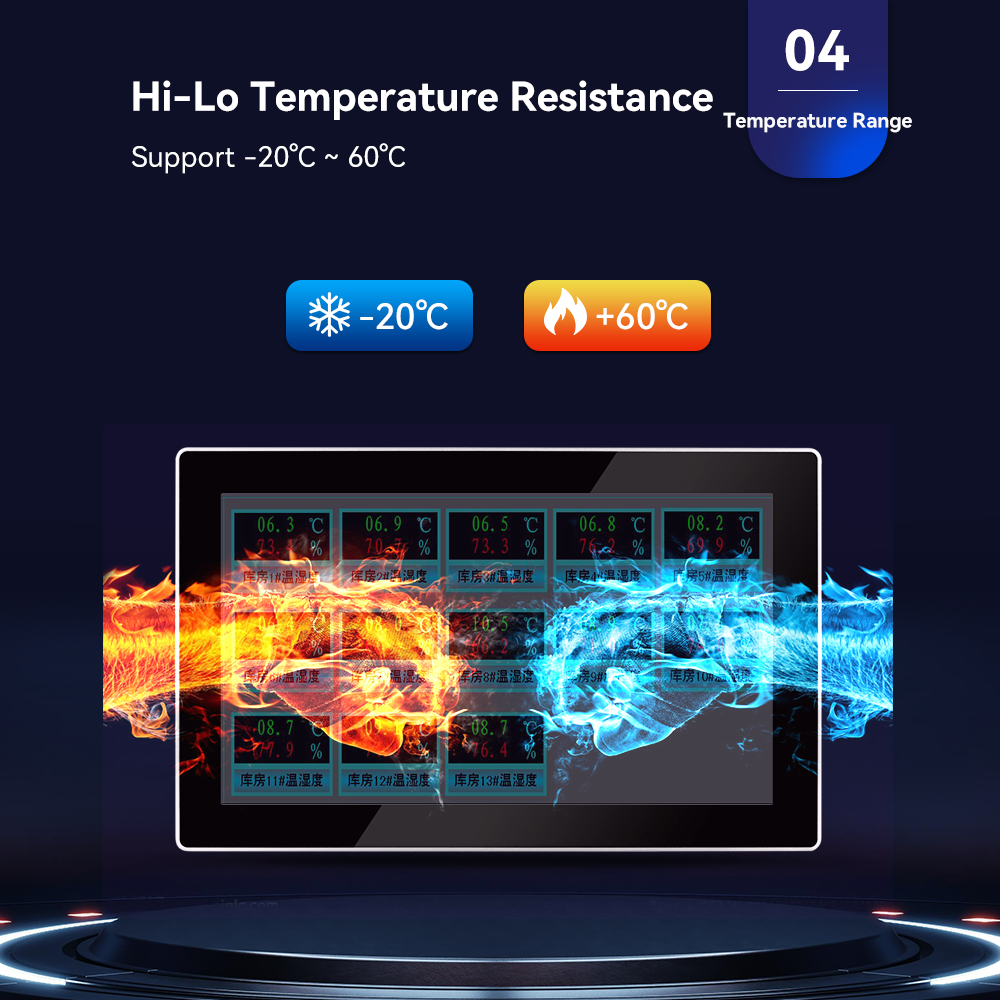 This touch screen panel computer is resistant to high and low temperatures, ranged from -20°C to +60°C. It can be widely used in various demanding environments.
The rugged industrial touch screen panel PC runs stably and is widely used for industrial automation, educational multimedia, shopping malls, hotels, parking lots, projection, digital signage, ATMs, vending machines, KIOSK, robots, medical care, client terminals, etc.