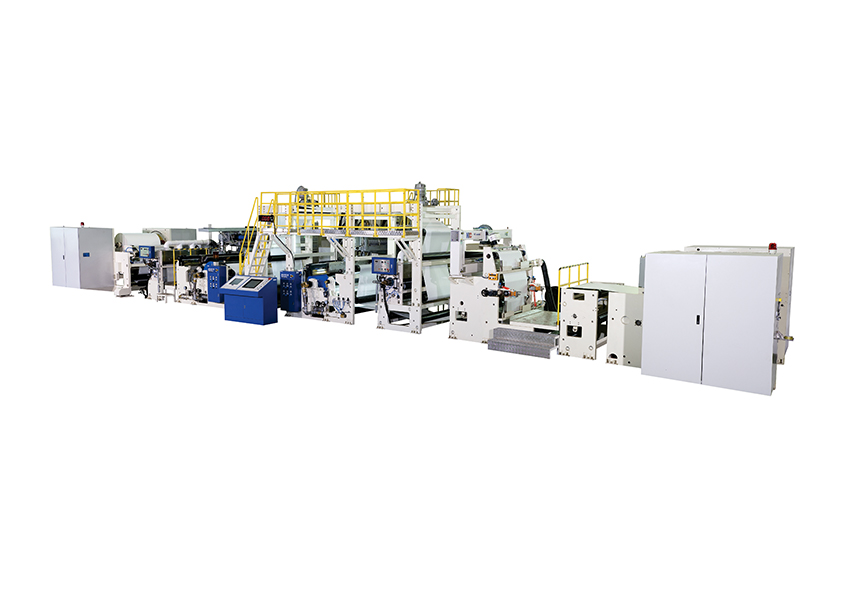 Extrusion Compound Production Line:
Specially designed screw performs high mixing and high output extrusion with stable conveying conditions and excellent plasticization.
Extrusion Laminating Machine is designed barrel with groove line on surface and forced type concentrated cooling system, highly efficient cooling function, makes temperature control easier.
Adopts AC or DC drive for high transmission efficiency and energy saving. Internal deckle type T-die is used to reduce the occurrence of uneven thickness of the coated edge.
Steel cooling roller, surface hard chrome plated, internal design is double shell spiral baffle and single flow type. This offers uniform surface temperature transmission and better cooling efficiency.
Pressure roller is silicon rubber covered, and uses internal water cooling system. The hardness of the silicon rubber prevents laminated sheets from sticking to the roller.

1.Release paper extrusion laminating machine(Double sides coating paper machine) mechanical characteristics:
·Chaotic Mixing Low Energy Consumption Extruder
·Oscillating T-die system of flat production roll surface and no gauge band
·High speed automatic roll winding and changing of winder and unwinder , longitudinal (MD) extrusion weight control.
·It is suitable for extrusion laminating process of paper and plastic.
2.Extrusion laminating coating machine Specification(Product width):
1200mm(550-1100mm)
1450mm(700-1350mm)
1700mm(800-1600mm)
3.Speed:
200m/min
300m/min
4、Extruder:2 sets(Manufactured using patented technology of Chaotic Mixing Low Energy Consumption Extruder①)
5、Extrusion output:HL-80xtruder with max. extrusion output of 200kg/h;
HL-90 extruder with max. extrusion output of 300kg/h;
HL-100 extruder with max. extrusion output of 400kg/h; (When extruding LDPE)
6、Extruder motor power:HL-80 extruder motor power: 45kw;
HL-90 extruder motor power:55kw ;
HL-100 extruder motor power: 75kw;
7、Resin extruded:LDPE、LLDPE、PP、EVA、EAA、EMA、EMAA, etc. coating grade resin
8、Extrusion thickness:6~40μm
9、Thickness uniformity of manual T-die:≤±5%
10、Diamater of unwind:Max. ф1200mm
11、Unwind substrate:paper(20~150gsm)
12、Diameter of sandwich unwind:Max. ф1200mm
13、Diameter of rewind:ф1200mm
14、Tension control:Automatic tension control in unwind and Rewind
15、Tension control:HMI operation; extrusion thickness is precisely automatic calculated by computer and linkage control of the whole machine
16、Inverter: Foreign brand AC digital vector control inverter
Note: ① is Huilong Patented Tehcnology